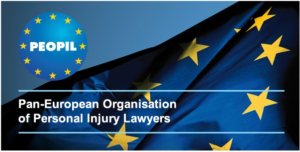 On Tuesday 21st April, Umberto Oliva, Senior partner of the MB.O Law firm, participated in the Webinar organised by The Pan-European Organisation of Personal Injury Lawyers (PEOPIL) on the impact of Covid-19 in the Italian jurisdiction.
The beginning of the speech briefly dealt with the managing of the pandemic in Italy. In particular, starting from February 23rd, the spread of the virus has been overcome with the progressive adoption of measures focusing on social distancing with the unavoidable consequence of putting under complete lockdown the whole country. Freedom of movement, of assembly and maybe also of thought – as a result of the institution of a "Task force against the fake news" – are only some of the most important fundamental rights that were and are still heavily restricted. Moreover, the use of legal instruments to handle the emergency that do not always involve the Parliament raise many concerns.
Before moving to the core issue, the principles of cooperation and coordination between Member States, set out in the Decision n. 1082/2013/EU on serious cross-border threats to health, have been recalled because crucial for the improvement of prevention and control of the spread of Covid-19, as well as for the establishment of a high level of public health protection in the Union.
In order to comply with health and safety rules, the Italian judicial system found itself forced to implement new telematic tools to virtually access Courts and platforms for holding hearings by remote connection as "Microsoft Teams". However, the carrying out of these adjustments entailed a period of suspension of the procedural times until May 11th, and of postponement of the hearings to be rescheduled after June 30th, with the exception of the ones related to "urgent" claims (protection of minors, family maintenance, dismissals..). On their side, lawyers are mainly doing smart-working, meeting their clients with videocalls and limiting their access to the Law firms only for urgent and specific needs.
Subsequently, a brief reference was made to the kind of measures adopted for supporting the national production system, which is encountering a forced situation of stasis, as for example the suspension of fiscal/social/insurance premium payments and the access to subsidized loans for enterprises. The resumption of activities shall be necessarily done in accordance with specific protocols focused on social distancing and use of the safety and personal protective equipment.
In such unexpected and unpredictable scenario, prospects for "Covid litigation" arise concerning the liability of healthcare homes, together with the one of the people in charge, for not protecting adequately their patients by adopting the precautionary measures, and the liability of tour operators that carried out the scheduled trips and cruises notwithstanding the spread of the virus, with the consequent exposure of the tourists to difficulties to return home.
For further information the complete speech is attached hereby.